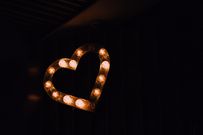 Thursday is February 14:  Valentine's Day.  Although, the day is most traditionally associated with flowers and chocolates for a sweetheart, it is also recognized as a day to show affection for friends and others important to us.  But too often, as with other holidays which have become over-commercialized, there is an unnecessary emphasis on the biggest and best gift(s), and possibly not enough reflection on the personal touches that represent the caring and appreciation we have for those dearly beloved.  While there is nothing wrong with retail purchases, a sincere love focuses on doing something for the friend or loved one, making memories by spending time together, and a devotion to those creative means, which increase bonds and reinforce an ever-deepening relationship.  
     I was fortunate to enjoy a recent weekend with two of my brothers.  I went with one of them to the hockey arena to watch a game in their two ticketed seats, while the other stayed home and viewed the game on TV.  Several times, when the play occurring near our seats was captured by cameras in the end zone, the at-home spectator would screenshot us a picture texting, "I can see you on TV:  Stay tuned!"  As he increased the zoom feature of photos taken on the television, distortion occurred, and he would communicate throughout the game some curiously odd and comical photographs.  We howled with laughter at the one that "clearly" resembled a bearded road monkey, next to a mangey, mopped-topped stray, seated in the risers behind the net.  Granted, we probably do have extremely vivid imaginations, fueled by the entertainment of the occasion but there did appear to be a couple of strange characters amongst the crowd.  But thanks to our modern technological devices, three individuals (in two seats) were able to share a memorable experience, which resulted in a good time that was had by all!
     This Valentine's Day might be the excellent opportunity to re-examine our gift options and choose the intimate ones that make the ideal "I love you" statement.  The best presents are ones from the heart, such as, the homemade paper-glittered heart, that favorite prepared meal, a thoughtful token invoking exclusive memories or adventures, and the less-than-perfect handcrafted treasure, which is an obvious labor of love.  These are priceless expressions that serve to invigorate relationships and strengthen those ties-that-bind.  In the era of life-in-the-fast-lane, slowing down to make time for matters of true significance may be one of the great challenges of our times.  But it is definitively among life's most valuable accomplishments, and, as the years continue to fly at lightning speed, we will eventually enjoy looking back at the cherish moments created with time and love.