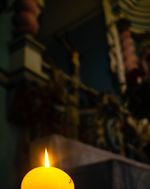 Healing can be a complicated endeavor.  Physical, emotional, and spiritual pain often seem too consuming or overwhelming to resolve.  How do we heal such deep wounds when they are frequently out of our control?  Well, healing is a process, a series of steps and actions that, with awareness, effort, and patience, can eventually lead to a successful result.  It is rarely a quick fix because it requires time and effort for mind and body to recover.  But the good news is that we don't have to do it alone; most of us have friends, family, religious and other support groups, who are eager and willing to help.  God, Himself, is anxious for us to call on Him to aid and lift us in our sufferings, and He is always only a prayer away.  Still, for those that feel lonely and isolated in their pain, there is ever more urgency to lean on God.  He always calls to us in that calm, quiet voice, and urges us to come to Him and allow His presence to enter.  The Powers of Heaven can affect a soothing balm in any stage of illness or injury, even when complete healing has not yet occurred. 
     Sometimes there are initial steps we can take to begin the healing process, such as lifestyle or behavior changes, counseling and therapy sessions, even prescriptions for physical or emotional medical conditions.  These treatments can contribute to an improved health status.  But, since God's continual calls to us are often obscured by noisy distractions and frantic daily schedules, many times it is those desperate, challenging moments that privately draw us to our knees, as we earnestly plead for the hope and comforting cures that only divine guidance and intervention can provide. 
     Losing a loved one is probably one of the most difficult challenges in life because the painful loss and separation feels so permanent.  Even though we may hope to see our loved one again, how can we receive an assurance of the reality that we will?  The book, "Heaven Heals (By Understanding Abraham's Covenant)," details Sarah and Abraham's covenant with God, which answers this question (p.33) and provides the hope and comfort that, indeed, the love we experience in life does not end with death.  Although with think of and miss our loved one daily, we can look forward to an eventual, joyful reunion because God loves the world and provides a heavenly reward for all His children. 
     The book takes readers through a spiritual journey that allows for the discovery of their true potential, as they develop a relationship that continually draws them closer to God.  It reveals a unique and powerful plan that moves readers from passive observers into active participants in their own relationships.  Heaven can heal aches and pains, transforming and empowering individuals, as they understand the significance of God's covenant with Sarah and Abraham, and how it relates to them.  It is then that they truly feel the heal, as they live and love in the way they were designed to do!