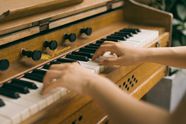 The earliest memories of my life as a musician are in the upper floor studio of Miss Arnold.  I began my piano lessons (with my hand curled around a golf ball, in proper positioning technique) when I was 4 years old.  My mom was a magnificent singer, pianist, performer and entertainer.  Although, I will never fill her shoes, luckily for me, she was determined that I benefit from music in my life.  She started me out with Miss Arnold's piano lessons, then supported and encouraged me as I later dabbled in my brother's garage bands (you can image how well that went - sister hanging around).  In high school, I sang in/accompanied A Capella choirs and musicals.  I joined community chorales, began singing in the Church choir, and filled in as organist when I was 16. 
     Songwriting came next.  All writing enables personal expression, and the process of writing allows for the organization of that expression.  A valuable catharsis arises from tapping into one's own thoughts and exposing them then, eventually, an awareness of their significance develops.  For me, songwriting, which is the experimentation and combination of lyrics with notes, chords, and musical phrases, ultimately leads to the formation of a finished song!  This is among the most fulfilling and enjoyable of all activities. 
     Whether writing, singing, playing, humming, listening or dancing to the universal tones of music, there is an emotional component that unites seemingly unusual and incompatible groups of people into one common thread of humanity.  This musical achievement is the goal and I hope that an element of inspiration, optimism, and enjoyment will be communicated to my listeners, through the soft rock/adult contemporary style.  
     Song lyrics of God's messages of love, hope, peace, second chances and persistence have played a significant part in the making of my book: "Heaven Heals (By Understanding Abraham's Covenant)."  This book is about the eternal love story of Sarah and Abraham, and about our own effective healing that occurs when we realize the meaning of their covenant with God and its relationship to us.  I hope the lyrics have decorated this book and enhanced the messages presented to readers.  It is my desire that the companion CD, of the same name, brings those musical lyrics to life, in a way that is enjoyable and supportive of the book's content and purpose.  We all struggle with our own obstacles in life, as did Sarah and Abraham, but, through books and songs, we realize we are not alone in our struggles.  Many before us have wrestled to overcome, learn from trials, achieve joy and successes along the way and, ultimately, accomplish greatness in the end.  We, too, can grapple, learn, achieve, overcome and triumph - just as Sarah and Abraham did.  Good music (especially, the classics of hymns and period Masters) draws us closer to God, lightens life's load and thoroughly enriches the adventuresome journey.