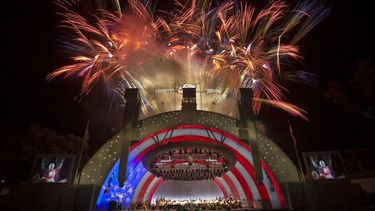 Is this a splendid Hollywood Bowl, 4th of July photo, or what!?!  Are you looking forward to a July 4th holiday of parades, salutations, get-togethers, music, and fireworks - a celebration of America's independence and birth, as a nation, 243 years ago?  The Original Founders were not stupid, stodgy, old Englishmen (as some have alleged) but were well-educated, community leaders, who were among the most brilliant thinkers of all time. They studied governments and societies, financial structures, political systems, history, religion, human nature - just to name a few areas of their expertise. Many of them were the Framers of the proclaimed Declaration of Independence, participants in an American Revolution, and constructionists of a Constitution, the supreme framework for the organization of the U.S. government. The Constitution defines the relationship our government has with the states, its citizens, visitors, and foreign nationals.  G. Beck was once quoted as saying: "When those 56 men gathered to declare our Independence on July 4th, 1776, they weren't just saying no to British rule. They were saying no to all rulers. They were declaring the beginning of the great American experiment, which sought to answer the question: Can man rule himself? Even with all the hardships and troubles facing America, I still believe the answer is YES! And I say that as emphatically and enthusiastically as I possibly can. Man CAN rule himself and we are going to continue to prove it together! ...my goal is to prove that we have not failed in the goals set forth by our Founders so many years ago on July 4th. Everything... has been done with the intention of giving you the tools, the history, and the information you need to be self-reliant."  I agree with him that there are many tools and websites available to us to learn from history and continue to improve upon this great American Experiment! 
    Every year we celebrate our unique freedoms and those who defend them. We remember the incredible wisdom of the Founders and Framers and the bravery of those who serve America in uniform. We love to share our traditions with our friends. We enjoy our roots, history, culture, language, and enduring relationship with the U.K. We embrace the positive additions to our American landscape, which have come to us through global influences, especially now that they are so easily accessible, through a worldwide Internet. We continually strive to better ourselves, our surroundings, and the opportunities America provides. As the festivities begin tomorrow, it is a marvelous time to think about the involvement and work of maintaining freedom and our famous American resilience. Despite the many social, political, and economic differences that exist, our optimistic attitude and constant persistence motivates us to keep the July 4th flame alive in our hearts this week and well into a promising future of freedom and opportunity!  I love the quote, 'When someone tells you that you can't, don't believe it.  It's a reflection of their limitations, not yours'".  Anything is possible in America!
    So, best wishes for a Happy 4th of July filled with fun, activities, beach/backyard/brotherhood gatherings, parades, fireworks and many variations of celebrations!  I'm looking forward to it!  I think it is the premiere form of enjoyable summertime excitement!