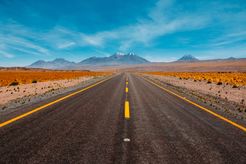 Photo: Diego Jimenez (Unsplash)
I was talking to a fellow who asked people he would meet that question. He was surprised with the different answers he received:
The poor person in a shack said, "If I had that house up on the hill, I would be happy."

The rich person in the house said, "If I had a loving family like those people down the hill, I would be happy."

The lonely person on the park bench said, "If I had three good friends, I would be happy."

And so on...
It got me to thinking. It's funny how every individual's situation predisposes them to imagine that, if they just had something that they didn't, they would be happy.  

 Bruce Mars (Unsplash)
But real happiness is an attitude, not a possession. 
Everyone has problems and no one has everything they want, so we should just look for joyful moments and grateful realizations throughout our days.  Goals to improve ourselves and our situations leads to personal accomplishments.  That develops self-worth and feelings of satisfaction.  This is what facilitates happiness! 

And being reconciled with God, ourselves, and others will truly make us happy! Any thoughts? I'd love to hear what you think!