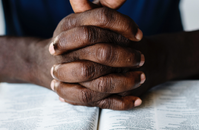 "Heaven Heals (By Understanding Abraham's Covenant)," discusses the covenant God made with Abraham, specifically, the covenant He made with Sarah and Abraham.  Because documentation explaining this covenant is scattered throughout the scriptures, it can be difficult to realize its significance, and how it relates to all of God's children. But, in this book, the documentation has been gathered and compiled into a concise study, which is easy for readers to understand and to apply to each one's individual situation. 
     People from all religions will find it interesting to explore, throughout the book, the covenant between God and Sarah/Abraham because, as they will discover, it has a relationship to all individuals/couples.  All religions have origins in God and the three major world religions, Christianity, Judaism, and Islam have foundational ties to the Old Testament.  God created mankind in His image and He loves all His children.  The study of Abraham's covenant reveals His love for all, and His inclusive plan for them to use their free will to learn from mistakes in life, achieve personal growth in the recognition of good versus evil, gain knowledge from their mortal experiences, and form families and friendships that will endure eternally. 
     Christianity and Judaism have always had a direct interconnection.  Biblical scholars have benefited from the exchange of information between the two religions. Understanding the importance of historical, cultural or linguistic influences, for example, has contributed to the unfolding of scriptural intent and provided great assistance in my research for this book.  Also, over the past twenty-five years, as I have interacted with Islamic Americans, I have observed their strong work ethic, family bonds, citizen involvement, and religious values.  Since God is all-knowing, all-powerful, all-present and all-loving/just, He inspires people everywhere with a portion of His word.  There is wisdom to be learned from different world religions, where there is generally a belief in God, love of family, concern for humanity and fervent reverence for the majesty of His Creations. 
     "Heaven Heals (By Understanding Abraham's Covenant)," has a message of God's universal love.  This love of God has the power to bring good people and religions around the world together.